24th May
Covid Vaccinations
Covid vaccinations are still available through Dorset Healthcare. More information about who is eligible and where the vaccinations are taking place can be found by clicking here.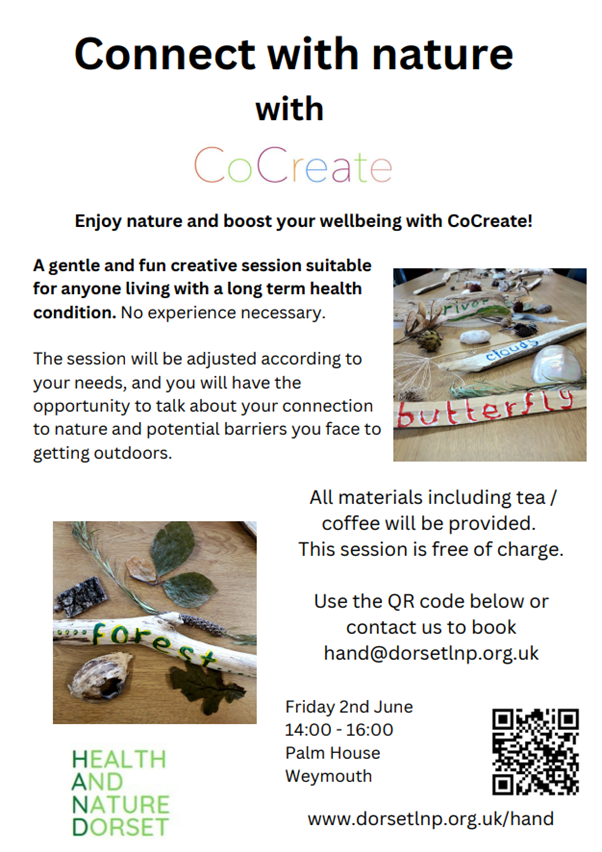 24th May
Health And Nature Dorset workshop
A gentle and fun creative session suitable for anyone living with a long term health condition.
19th May
GPRP Statement
Dear Patients
We wanted to respond to answer your queries following the Government's release of its "Delivery plan for recovering access to primary care" today. A lot of the points in the plan are already embedded in many practices; we felt it would be helpful to clarify current operation procedures at both our Atrium Health Centre surgeries.
We know first-hand that things have been extremely busy, the pressure and demand for appointments is very high, and continues to remain so.
As you may be aware, we have recently moved to an eConsult GP appointment booking system to enable us to triage your requests more appropriately and have just moved to a cloud-based telephony system which provides you options for talking to the correct person at the practice. We think patients will be able to see the how much better this makes the experience of trying to contact us both for GP appointments and other reasons. However, you are also probably aware that better phone access doesn't mean we have unlimited appointments to offer when you do get through to us.
We have changed to an eConsult triage to ensure patient safety as we felt that restricting our Duty Doctor emergency lists morning and afternoon and then asking patients to contact 111 or visit their pharmacy when capacity was reached on the day was not the best course of action for us or you as patients. This also means that we do not have to ask patients to call us another day, but please bear in mind depending on capacity, we may not be able to deal with every request same day. Using 111 or your local pharmacy may be appropriate, and you will be advised via the eConsult response if so.
The news about prescription medications available directly from Pharmacies is welcome; we always ask patients to visit their local pharmacies for many minor conditions as you will find you can access excellent help and advice quickly. A lot of minor illnesses and injuries do not need GP input, so it allows us to be available for those that really do need an appointment with a GP, Practice Nurse or another member of the healthcare team. Please note however, these particular changes in the recovery plan are not in place just yet. Once we receive any further information around this we will let you know.
As we use eConsults for GP appointments this provides us with a description of the issue you are contacting us about, and this helps our triaging clinician to direct you to the most appropriate person, in the most appropriate time frame. We have pharmacists, Nursing team, First Contact Physiotherapists and Social Prescribing Link Workers working as part of our team – therefore you may be directed to someone other than a GP.
The triaging clinician will also review the information you provide to decide if a face-to-face or telephone appointment is most appropriate. Therefore the more information provided via a clinical eConsult is much better to enable the clinician to signpost most appropriately and provide you with the most convenient appointment. We find that many issues are appropriate for telephone consultations, we can view your entire record and history, send prescriptions electronically directly to your pharmacy etc, and many patients prefer this rather than taking time out of their day to visit the Practice. However face-to-face appointments will be offered where information supplied shows this is the best course of action.
We are pleased to see further advancement of the NHS app and we do recommend patients use this to order their repeat medication or book HCA appointments when invited and now you can view your GP record and test results.
We continue to work very hard to offer the best service for our patients; we appreciate your co-operation and support.
The Atrium Health Centre
10th May
Leg and Foot Ulcers in Dorset - Have your Say
NHS Dorset are launching a view-seeking service to seek feedback from people who currently have or have had a leg or foot ulcer. They also want to hear from people who provide care for those with a leg or foot ulcer.
Please complete the survey by visiting their webpage here.
16th Mar
Appointment System Changes
Due to the changes within the GP Contract that the government have imposed on GP practices as of the 1st April 2023, we have had to review our current system for how our patients book appointments with a GP or other healthcare professional.
As of 1st April, we are required to offer you an assessment of need, or signpost you to an appropriate service at first contact with us. This means that our current system, whereby GP appointments are filled on a 'first come, first served' basis and when there are no more appointments left patients are asked to call back, has to be changed to fit with the government's new GP contract stipulations.
As a practice we have discussed this within our teams and feel that the best way for us to assess your needs is that any request for a GP appointment shall be via an electronic eConsult. This means that all eConsults received can be sent directly to a GP who will assess the details provided by you (or your representative) and signpost you to the appropriate healthcare professional and appointment slot. By using this method to book GP\Healthcare professional appointments it means that we can equitably offer all our patients the same service and improve on appointment waiting times.
For those patients who are unable to access the internet, or do not have a smart mobile telephone our reception staff will be happy to fill in the eConsult form, either via the telephone or in person.
For patients who are contacted by the surgery to book a Long Term Condition appointment, an NHS Healthcheck, blood test or any other invited appointment, they will be able to telephone and book directly into the requested appointment type.
We know that this is a big change, both for you, our patients and our staff, but if we all work together we are sure that by changing to this method we will be able to offer you all a better service and a shorter waiting time for appointments.
Thank you
The Atrium Health Centre Partners
8th Dec 2022
Strep A (Scarlet fever) Infection Information
Click here to watch a YouTube video explaining what Strep A is, how it might affect your child and what the treatments might be
Healthier Together - link to a website containing lots of useful information
UK Health Security Agency - the top 5 things you can do to help protect your little ones under age five and reduce the risk of infections for your family this season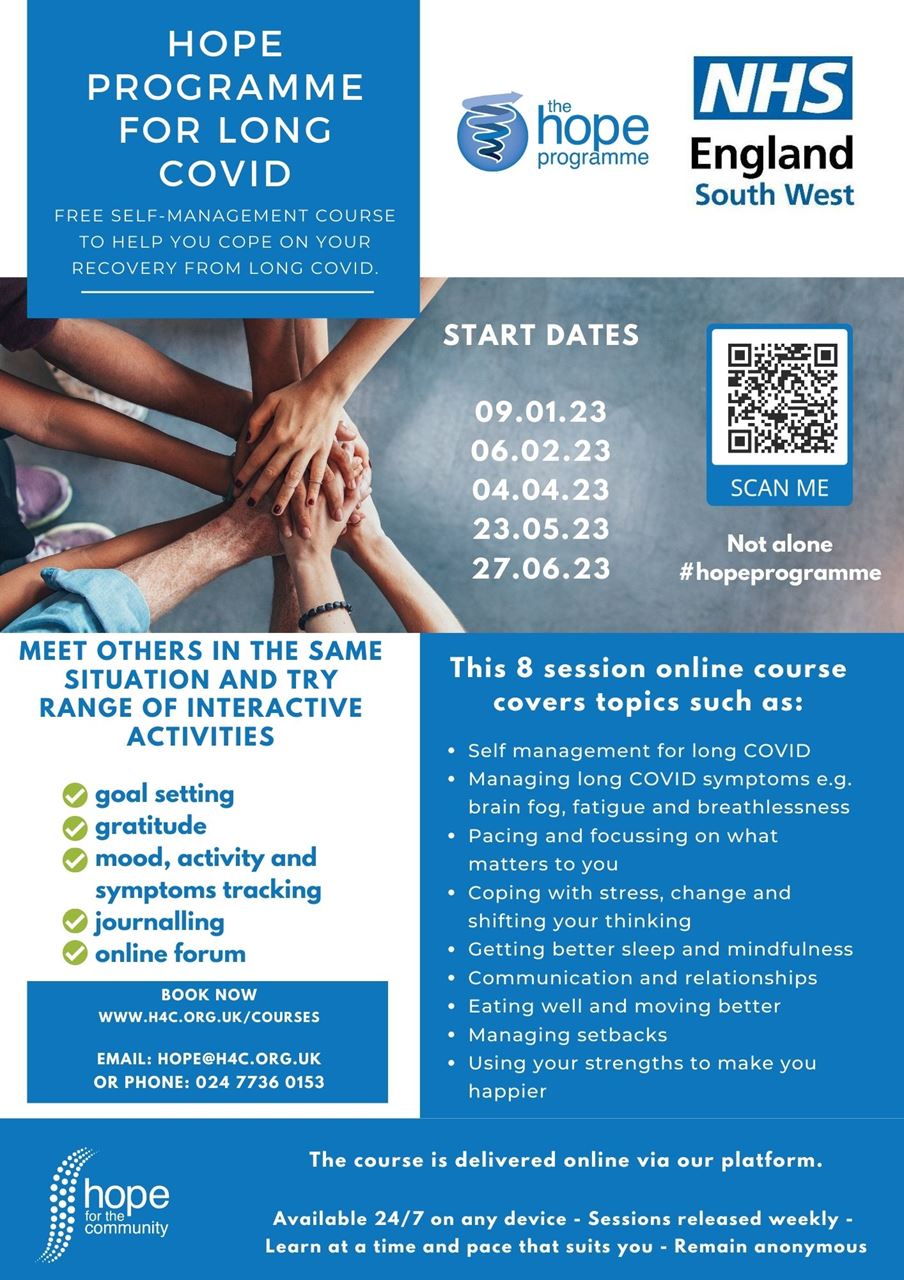 6th Dec 2022
Hope Programme for Long Covid
This is a self-management course available to the South-West population who may need support through the recovery of long Covid. It is delivered digitally over the course of 8 weeks and open to all affected. You do not need to have been referred to a post Covid clinic in order to participate.
The course content is available for 4 weeks after it is published so it can be completed at a time convenient to each participant.
Click here to view the poster in a larger format.